Once again it's been a busy few week for 3417 and it's Minions. Firstly came a very long trip to the National Railway Museum at York last week. This was arranged to collect a quantity of brand-new trim material which will be used to recover quarter pads in the standard class accommodation – quarter pads are the fabric covered, foam padded boards beneath the windows at each pair of seats in standard and first class saloons and compartments. We are hugely grateful for the NRM and Project Commuter for their assistance in sourcing this material, which is vital to the refurbishment of our passenger accommodation. The funds to pay for this material, made as part of a special order by Camira Fabrics, came from our successful Crowdfunding appeal which closed last year. Thanks are due at this point to Bob Gwynne of the NRM for allowing us to pick up the materials at the second time of asking and to our redoubtable driver Lynn Abrahams who gave up two well deserved rest days from her role as a Trainee Driver with SWR to drive the van to and from York.
Having finally managed to get the trim delivered back to London and organised the shed to allow space for a dedicated trim shop we are now in a position to begin restoring the coach interiors. Last Sunday we began the process of stripping out the London-end DTC No. 76262 (also know as the "Good End" on the unit). Potter, Lynn, Maggie and Doug spent the day cleaning the coach out and removing the last of the remaining quarter pads. In the interests of spending as little money as possible (I'm trying to avoid using the phrase "we're stingy buggers" here) we will be re-using the plywood backings where possible, as well as the sponge liners. Most of the old trim material is water-damaged or contaminated with mould, some of which can be cleaned, but much of which has had to be disposed of. By the end of the day we had cleaned the coach properly, and Maggie and Doug has succeeded in salvaging around 50% of the old quarter pads. Our stores have a small amount of 5.5mm plywood which we will cut to shape this Sunday. Hopefully we'll unwrap our first roll of fresh trim as well and make up some brand new quarter pads – this will be the first time the unit has received fresh internal trim since 2004!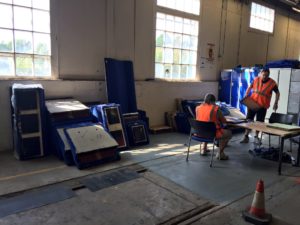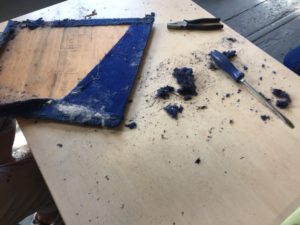 Our aim is to work through the unit from blocks-end to shed doors, consolidating and repairing as we go until we once again have serviceable coaches. Our Chief Engineer has been in touch with a specialist who can restore the seat cushions, which we will dispatch as funds allow. Alongside this there will be further mechanical work carried out to re-certify the brake system and the fitting of brand-new step boards to the unit. With a restored interior and fully functioning brakes and controls, 3417 will finally be ready for traffic again. At that point, we will start thinking about where we take the Old Girl to celebrate it's rebirth!
Stay tuned for more news as we have it and in the meantime keep in touch with incidental news using Facebook and Twitter.