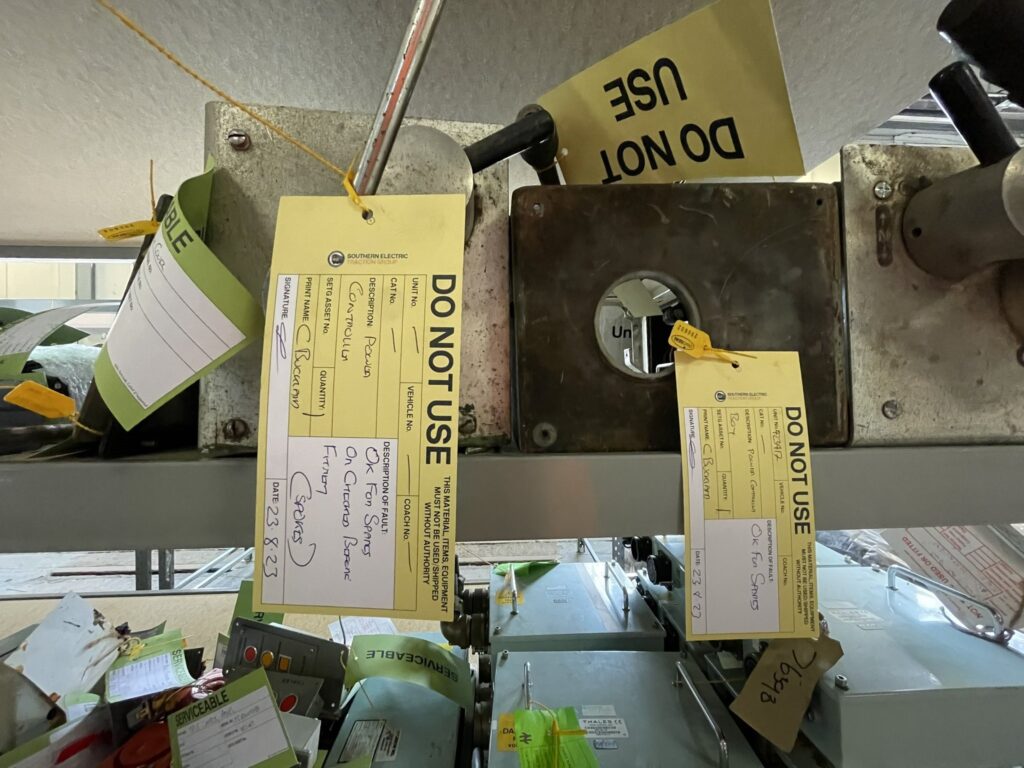 Digital Minion here…
You may have noticed some social media updates regarding our parts and inventory. We're very lucky to be able to work with some fine people and businesses who seem to have the knack of finding parts for old trains. Which is lucky because I forget where I put my laptop charger on an almost daily basis.
Anyhew, just wanted to put a few words together (Potter still has a case of the word-block and we don't let Buckie near the website incase it gets covered in grease and oil)..
We're starting the all-important process of cataloguing everything we have obtained in terms of parts and consumables. There's a lot of stuff on shelves, in the new racking, still in pallets – but the important part is, it's all under cover, secure and warm, which is the best thing for bits of trains that are becoming ever more scarce. A big shout out to Mr Spokes (of http://www.400series.co.uk/ fame) for his help and assistance – and everyone who continues to donate.. (ahem)… https://www.setg.org.uk/donate/
In the big railway world, there's lots of lovely custom built software that allows people to have a live inventory and such. Sadly we don't have the funds to buy such (expensive and complex) software and hardware to run it, but we're looking at building something simple that works for us, can be used by the various Minions and won't mean I'm fielding support phonecalls when I should be doing other things… It's bad enough that when I brought the new barcode reader into the Shed, the other Minions accused me of witchcraft because the 'red light read all of the zebra things and made digits appear on the screen'… Honestly… And they actually think the SW division is the best…
Inventory – It's an important part of the preservation lark, and one that needs to meet some big tickboxes if we're going to get 3417 back with passengers on seats – and we're getting there… slowly but surely.
Or is that Shirley – I can't read Buckie's handwriting…