ood Morning, Friends of the VEP.
For those of you that haven't been shamelessly and obsessively following us on Twitter and Facebook (For shame! Naughty you! Hold your head in sorrow & embarrassment and stand in the Naughty Corner), the Bluebell Railway came a'calling on Saturday. To say that we have been nervous about this impending meeting would be an understatement. For myself and Oscar it meant meeting some VIPs, for Bucky it meant meeting the men who were the BR Top Brass when he started as a spotty apprentice in the early 1980s. So where two of us were nervous, one of us was transformed from a confident depot manager in charge of a multi-million pound fleet of machinery into an overawed teenager, but more of that later in Bucky's own words. Our visitors were Roy Watts, the former Chairman and a very old friend of the VEP, Dick Fearn and Graham Aitken – Chairmen of the Bluebell Railway Plc and the Bluebell Railway Trust – and Gordon Pettitt himself; President of the Bluebell Railway and, oddly, a man named after a 4VEP (or possibly the VEP was named after him – chose you own joke here). So that sets the scene; some of the most influential men in UK railway preservation and three spotty herberts who are doing up a 4-car Slammer. Oh boy…
Bucky is the Man in Charge, and Saturday was hugely important to him: let him set the scene and tell the tale.
"Today was about Bacon, Tea, Good Company and, Well, Bacon. Oh, and some cab repairs. Did I mention Bacon?
We had some visitors from the Bluebell today to see what we have been up to behind closed doors and a very, very special guest Mr Gordon Pettitt or as I like to call him "Sir." I'm afraid he will always be Sir in my eyes. When I was a spotty little erk of an apprentice (Told you – Potter) Mr Pettitt was the General Manager of the Southern Region. Not just South West Trains, Southern or South Eastern but the whole kit and caboodle, so he stood one rung one above God. In fact God reported into Mr Pettitt regularly about matters like progress on this 'Adam and Eve' stuff and whether he should part the Red Sea or not. So to actually have Mr Pettitt call me by my first name instead of "Oi you", and shake my hand; I'm thinking "It doesn't get any better than this." I've made it on the Railway after 37 years!
Graham Aitken, Roy Watts and Dick Fern are the senior men from The Bluebell. The glittering elite from the Bluebell board at our little depot to see what we have been beavering away on like the Seven Dwarfs playing with Gordon's namesake. (Calm down, Buckie. Take a breath – Potter)
Well, after we had buttered them up with Bacon butties and tea (Section 4 Sub Section 6 in full operation) we showed them what we had been doing. I think they were pleased with our efforts as they didn't shout, wave fists or start to collect my spanners up into a bag. They didn't even take Potter's sweet and cake stash from its secret hiding place (under the sink) .
After a comprehensive tour some serious discussions were had over cake and tea (if nothing else we feed our guests), and very constructive it was from both sides. Some misunderstandings were cleared up, both groups now know where we are going and for me thats half the battle. Knowing what each party wants is desperately important so we can move forward. The crux of our discussion was that we all care about the Old Girl and want the best for her.
THANK YOU GENTLEMEN. IT WAS A PLEASURE TO HAVE YOU AT STRAWBERRY HILL. PLEASE COME DOWN ANYTIME YOU WANT.
A special thank you to Gordon (or SIR) for coming down. Lets do it again soon; if you can put up with my driving!
Bucky."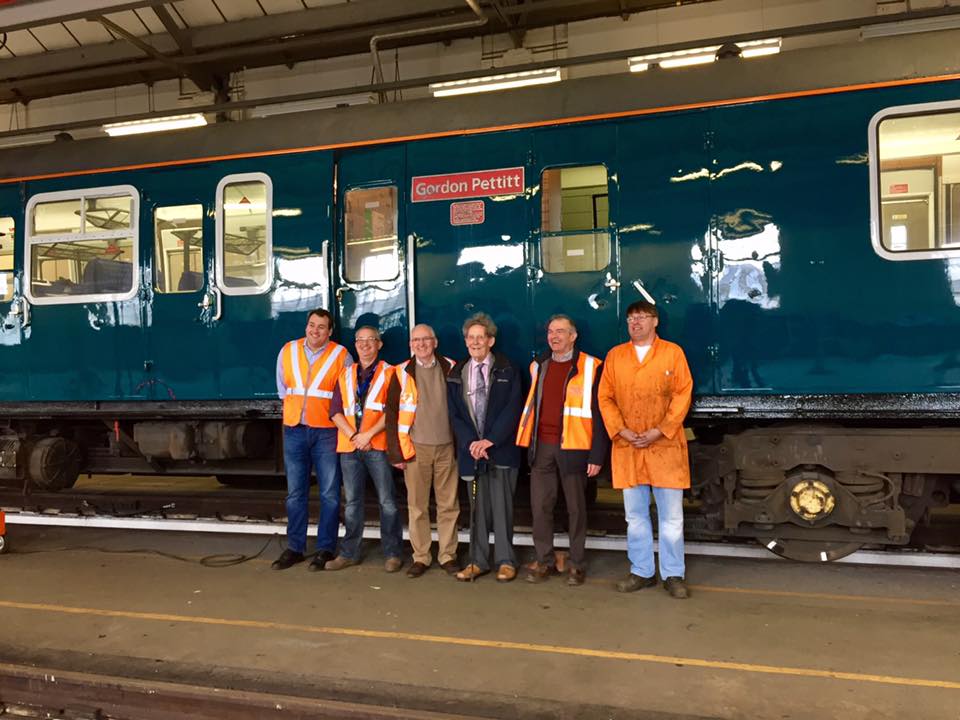 "Three Top Men and Three Wimbledon Scrotes. Strawberry Hill, 2017″
So there you go.
The Bluebell Railway support our efforts, and we've received the blessing of the men in charge.
We all agree that the mainline is the ultimate destination of the unit, and that all the work carried out will be to a mainline running standard. The unit will be maintained to the highest standards. As components wear they will either be replaced with identical equipment or the more modern equivalent – the fabric of the unit will be preserved but it will be maintained to confirm to mainline standards as they evolve. Measures will be put in place to independently monitor the quality of mechanical & aesthetic work for the benefit of the Bluebell Railway and the SETG, for the protection of both parties. We are proud to be working on behalf of the Bluebell Railway and it's membership to bring No.3417 back to life; the future looks bright indeed.
We have a report incoming from Trousers regarding the excellent work he has been doing on the driving cab of 76262 but as with all things, the Big Railway comes first. Keep your eyes peeled for more news soon!
Before we go, one last plug for the Just Giving appeal – we have hit 25% of our target. Pay Day approaches, and we have 12 days before the appeal closes on 3/4/17. Can you spare the price of one last pint? If you can, the VEP could use it.
CLICK HERE TO RID YOURSELF OF LOOSE CHANGE!!
As always, thanks for your reading and for your support.
I'm off to help Oscar administer sedatives to Bucky, since he still hasn't stopped shaking.
He keeps muttering something about having spoke to God….
Additional Potter's Note:
I neglected to credit two other people without whom we could not have made Saturday's meeting the success it was. Julia, who cooked the greatest concentration of bacon sandwiches seen on any depot since privatisation – thank you. That simple detail made a stressful day into a triumph. And Lynn, for helping Julia and for doing so much more besides to silence nerves and give encouragement to a jittery idiot of a driver – thank you.
"You were both brilliant. We couldn't have done it without you both."