Project Phoenix Phase Two:
Phase Two will involve achieving work to allow the unit to work on the National Network under it's own power, as well as continuing to allow passengers to be carried on preserved railways as required. In order to allow the unit to become a functioning traction unit again several issues will need to be resolved.
Global System for Mobile communications – Railway (GSM-R)
In order to satisfy current Office of Rail Regulation (ORR) and Rail Safety Standards Board (RSSB), the unit must as a minimum carry two pieces of safety-critical equipment which must be fully functional in both driving cabs for the unit to leave the shed without a piloting locomotive. The first of these is GSM-R, which allows the driver to be in full contact with any controlling signal box or signalling centre. The GSM-R allows trains to be stopped independent of a controlling signal through the Railway Emergency Call (REC) protocol, which, when a train receives an emergency stop message, requires the driver to bring the train to an immediate stand. The existing CSR (Cab Secure Radio) system fitted to the unit is obsolete and will be replaced. The SETG already has certain components to allow GSM-R to be fitted but will need to source further parts – either through corporate donation, sponsorship or through purchase from an approved manufacturer – and is making efforts to source all remaining parts to allow fitment of GSMR-R equipment to both driving cabs.
The approximate cost of GSM-R fitted as new, with preparation of drawings, fitting and certification will be approximately £5,000 per driving cab. This will include sourcing appropriate spares to allow robust operation. However the SETG already have certain components so we expect this estimate to reduce.
On-Train Data Recorder (ODTR – also know as OTMR, On-Train Monitoring and Recording)
OTDR equipment is also a mandatory requirement for all UK locomotives and units which are to be driven on the mainline. It allows all control inputs, speed changes, brake pressures and other information to be recorded for examination at a later date. Circumstances under which information may be needed can include monitoring and assessment of driving quality and style, investigation of incidents and so on. The data is vital to demonstrating proper operation of the unit and having records of movements is vital to having a body of evidence to show proper operation of the unit by the crew.
The approximate cost of OTDR fitted as new, with preparation of drawings, fitting and certification will be approximately £5,000 per driving cab. This will include sourcing appropriate spares to allow robust operation.
The SETG is currently approaching potential sponsors to reduce the outlay for this equipment.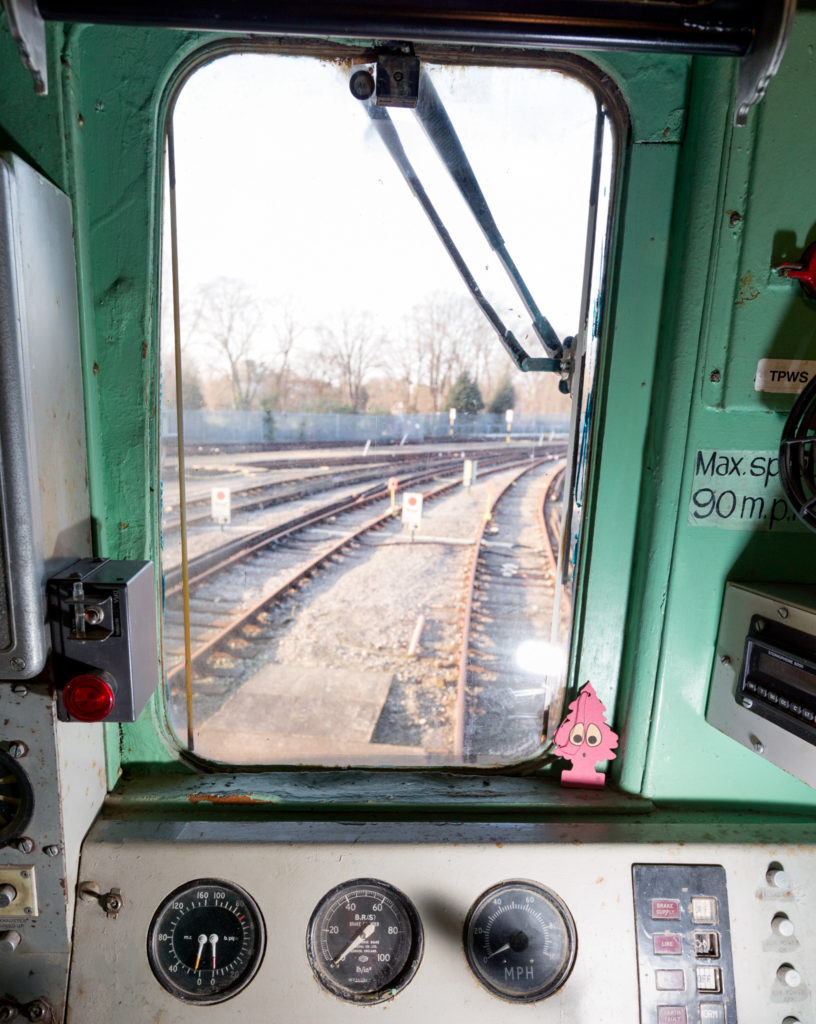 This requires us to raise £20,000 to achieve the goals set down for Phase TWO.
This total will be subject to change depending on funds raised through donations and revenue generated by the unit, sponsorship from individuals, corporate bodies or other charitable concerns. If we can raise greater than anticipated funds through whatever means, the timeframe for enhancements to the unit will shrink accordingly.
Editors Note:
As of early March 2020, we have been unable to raise sufficient funds to address any of the work above, and as a small group we cannot see a point at which we will be able to remedy this within the next few years. However work continues to progress at Strawberry Hill. Our goal at the current time is to bring the unit into a state where it can be hauled on the mainline and is able to carry passengers on preserved lines, as it has done in the past. This will allow the unit to once again earn revenue which can be ploughed back to fund further improvements.
Project Phoenix is alive, but progressing slowly.
We take heart from the encouragement and continued support we are receiving from the public through our Facebook and Twitter accounts and, as finances allow, our work will continue.
Please see our News page for regular updates on our steady progress at Strawberry Hill.